2013 Snow Goggle preview from Action Sport Optics are a few of the favorite goggles we looked at first hand at our recent regional trade show. These are all new goggles coming down the pipes for the 2012-2013 season from some of the best brands in the business including Smith Optics, Dragon Alliance, Scott, Spy Optics, Ashbury, Arnette, and Filtrate.  Progression and innovation in technology is what every company strives for, while keeping in line with current trends, colors, graphics, and lens applications.
First up is Smith Optics, and the new Smith I/OX goggle, 2013 definitely had many companies upping the ante in the interchangeable lens, and med to large fit frames, and Smith has answered the call with the Smith I/OX.  Smith nailed the aesthetics of this frame with a futuristic, yet subtle looking frame.  The price of $175.00- $235.00 delivers high end features  that you would expect for the price, worth every penny.

Dragon APX Goggles for 2011-12 kind of set a new bar of innovation and aesthetics, and for 2012-2013 Dragon has introduced the Dragon APXs, which is a the same frame with all the same features but 20% smaller in volume.  Every Dragon APXs goggle comes with a custom hard case to protect your goodness. For 2013 the graphics, lens and color options come in a wide variety of subtle to loud colors and Dragons rainbow of colors with the Ionized lenses. From low light grey bird days, to blue bird days the APX Infinity lens options deliver performance and protection that covers the spectrum. Pictured here is the Dragon APXs Gigi Ruff with Blue Steel Ionized lens, HOT!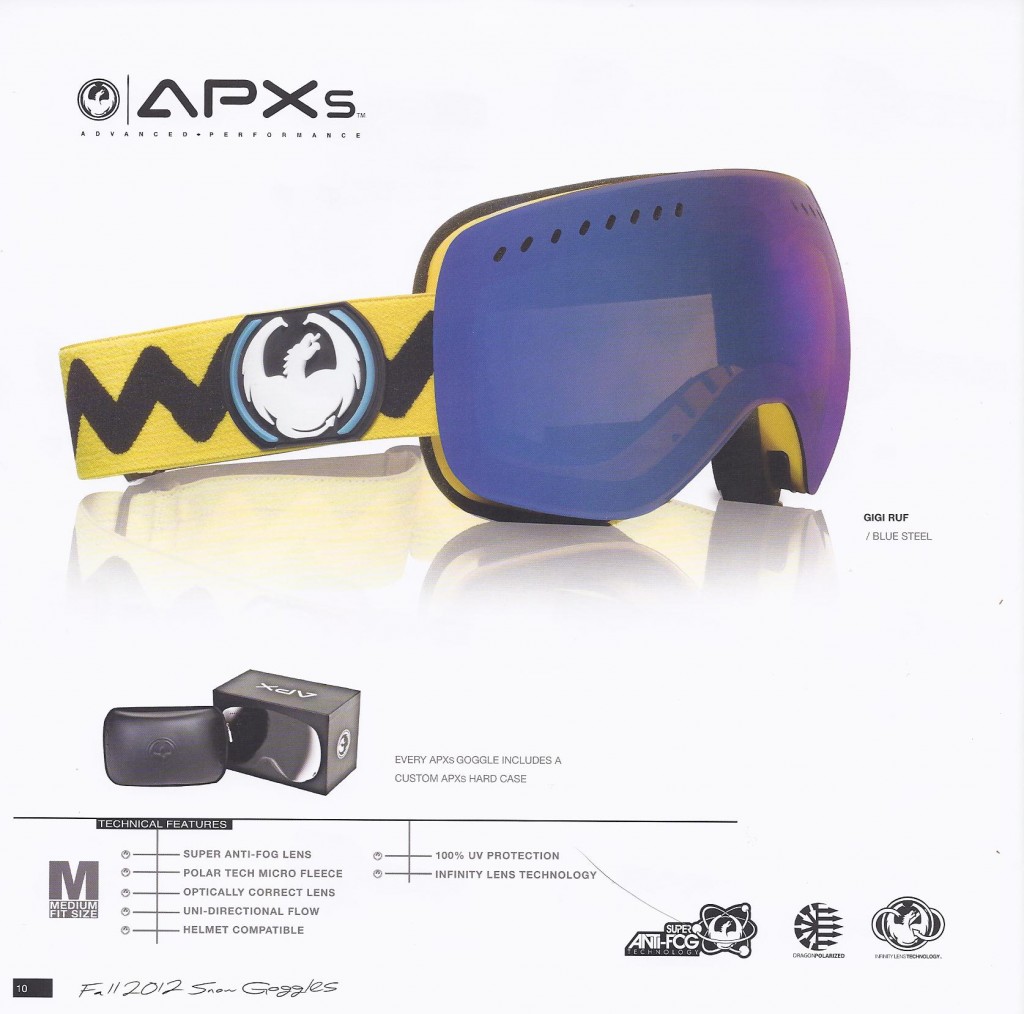 Scott USA has introduced a new frame for 2012-2013 called the Off-Grid.  This is a frame that is a larger fit with spherical lens with Scotts new Fit System Technology for a customized face and nose fit. Scott Pro, Tom Wallisch who won just about everything he entered this year has a signature Off -Grid pictured here, the graphics are inspired by Tom Wallisch's hometown of Pittsburgh, PA and Wasatch range in Utah where Tom lives now.  The Scott Off-Grid is all Tom.


Spy Optics has introduced a new mid-large frame called the Marshall, if you don't like all the over sized frames out there the Marshall walks the line inbetween large and medium, not to big, not to small, just about right.  Spy is bringing to the Marshall a color and graphic story that hits the entire color spectrum, along with some collabs with Les Ettes perfume company for the ladies, Spy Pro Danny Larson, and a Bad Brains inspired graphic story.  The Marshall is coming with signature Spy features including a flexible frame, Scoop ventilation, 5.5 base arc, triple layer foam, UV protection,  helmet compatibility, and will retail for  $110-$120.  Picured here is Spy Pro Darrell Mathis in the Spy Marshall Goggle

Ashbury Eyewear has introduced a new spherical lensed goggle called The Bullet. The Ashbury Bullet retails for $120.00, and comes with a silver mirrored lens and a FREE bonus yellow low light lens included. In Ashbury style the colors and graphics are all clean and  nothing to flashy, a clean stylish look that will surely earn you bonus points!  The Ashbury Bullet is the answer to a goggle that has a wider field of vision, and interchangeable lens story with Ashbury Snap Fit Lens Technology, and UVA, UVC, and UVB protection.

Filtrate Eyewear is getting into the goggle world and have introduced the oversized Larm that will retail for $100.00.  The Filtrate Larm goggle comes with a spherical lens in red or silver and a matte black frame and is a Med- Large fit.  The lens is easily interchangeable with a quick snap in and out.


Arnette has come out swinging again in the goggle world, going into its second year back in the market with a solid new introduction, the Arnette Skylight.  The Arnette Skylight opens up the field of vision with its NO-BS ( No Blind Spot ) technology and allows you  unobstructed visual clarity! Other features are UVA, UVC, and UVB protection, Toric lens, scratch resistence, triple layer face foam, med to large fit, and extra lens with select colors.  Pro Models are available in the Skylight from snowboarding legends and Arnette team riders Devun Walsh, and Zac Marben.


Visit Action Sport Optics, ASO is your online source for Action Sport and lifestyle related optics.  We pride ourselved in the best products from the best brands, superior service, and fast shipping.